Het Adres - 26 / Jan / 2017
Riverdale Must Have Februari Mokken
Aangezien de winter nog niet voorbij is, kan het nog best koud worden buiten. Daarom is deze Riverdale Must Have van februari niet te missen tijdens deze laatste koude maand. De Must Have bestaat uit drie XL mokken voor een lekkere warme kop chocolademelk of een goede bak koffie.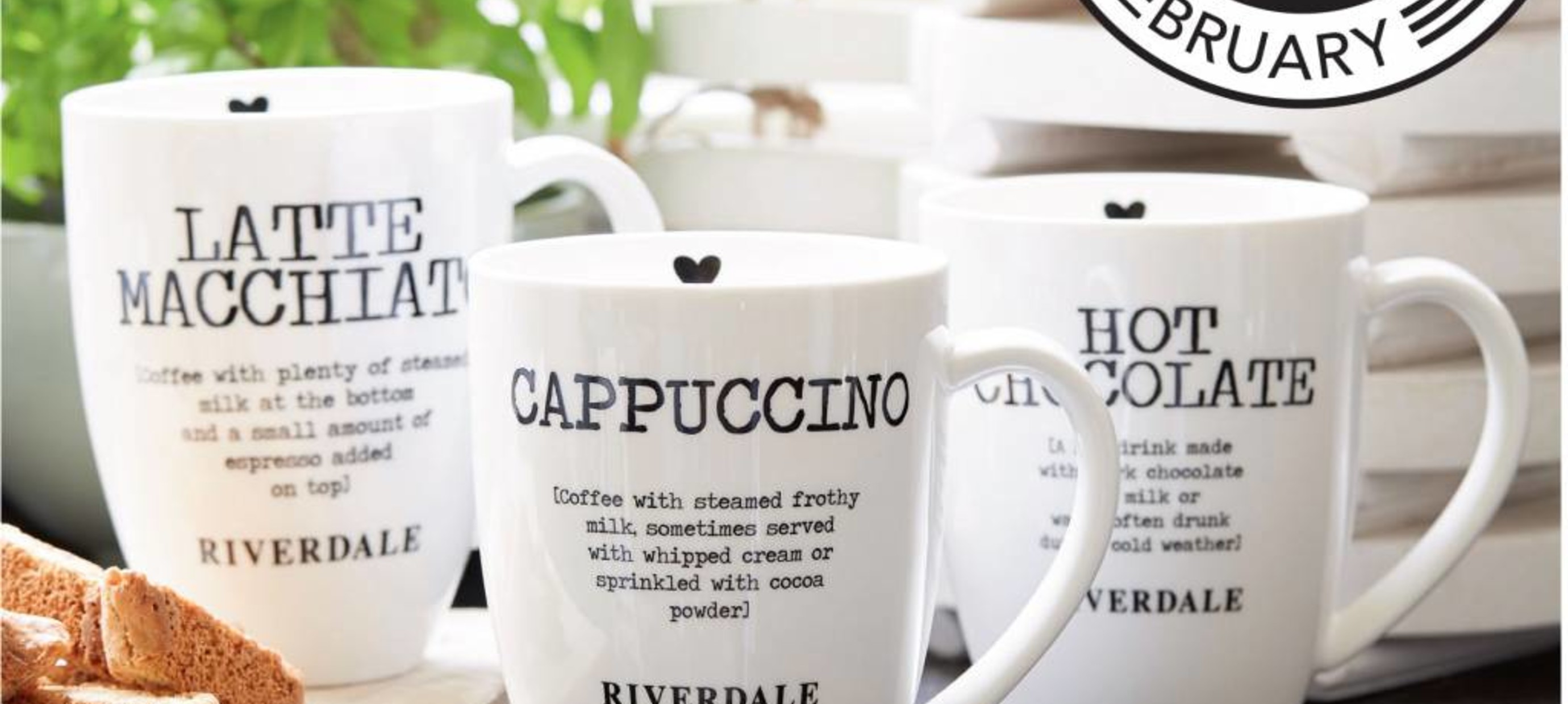 Dé Riverdale maand aanbieding van februari, extra grote mokken
De Riverdale Must Have van deze maand zijn voorzien van het woord 'Hot Chocolate', 'Cappuccino' of 'Latte Macchiato' met daaronder een bijpassende vrolijke tekst. Zo maak je van het serveren en drinken van een warme drank een speciaal moment. Daarnaast hebben de mokken een oortje waaraan je de mok kan vasthouden en zo je vingers niet verbrand. De XL mokken zijn een leuke aanvulling voor het servies en hebben een speelse uitstraling door het formaat van de mok.
Doordat de Riverdale mokken een neutrale witte kleur hebben, passen ze makkelijk bij het overige servies. Er zijn ook mokken in dezelfde soort stijl als deze Must Have. Op deze mokken staat dan bijvoorbeeld 'Soup', 'Coffee' of 'Tea' en zijn verkrijgbaar in verschillende maten. Zo zijn er mini mokken en mokken met een standaard afmeting. Door deze mokken met elkaar te combineren creëer je een speels effect in zowel de keuken als woonkamer. Daarnaast zijn alle mokken van Riverdale vaatwasser bestendig waardoor je er jarenlang plezier van hebt.
Heeft jou vriend(in), moeder of vader een grote liefde voor koffie of chocolademelk? Dan zullen deze grote mokken van Riverdale zeker in de smaak vallen en zal deze Must Have het ideale cadeau voor hem of haar zijn! Maak het cadeau helemaal compleet door er een speciale koffie of chocolade aan toe te voegen.
De Riverdale Must Have van februari zijn verkrijgbaar in onze webshop voor de speciale prijs van €9,95 per stuk. Let op: er zijn maar een beperkt aantal mokken verkrijgbaar dus ben er snel bij!