Riverdale hooks
Use a coat hanger for your coats and hats, but also for your towels.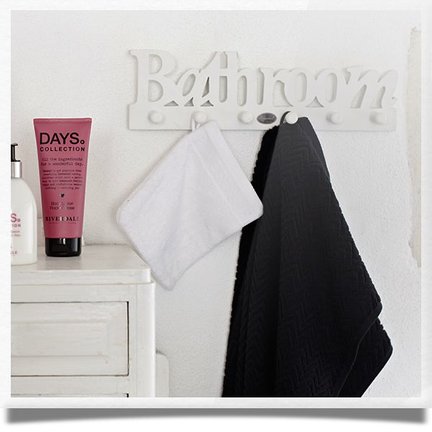 Use a coat hanger for your coats and hats, but also for your towels.
A Riverdale coat is an essential part of the corridor or hallway. Upon entering is a place to hang your coat and scarf indispensable. A peg pick should not be difficult, but there is so much choice that I no longer see the forest for the trees; a coat stand? Hooks on the wall? A hang-coat?
Brackets are ideal to be able to hang out a lot; a hook for your scarf and one for your coat, or you hang them both on one hook. Coat hooks take up little space and are therefore a good choice for a narrow hallway or corridor. Make them part of your paneling. Provide additional storage with a Riverdale table or shelf above the hook, attach the hooks on a shelf, or just below it. A row of hooks at a lower height is useful for children's coats and bags. With Riverdale stool beneath the hook-kapstop have a convenient place to sit for your shoes on and off. Need more storage space? Then choose a bench with storage options. For a playful effect, choose different types of hooks on a shelf, or directly on the wall. Hang them on the same level or stagger them in height.
A Riverdale rack is also strong in the hallway, the tubes can be lots of lost. A disadvantage may be that you need clothes hangers for hanging jackets and the like, it takes a little more time than hang a coat on a hook. Leave a tube or branch hanging from the ceiling for a spatial effect. Attach a rod from wall to wall, use a plank with a rod or choose a portable clothes rack. A standing coat rack takes up less space in width, but does cost more walking space because you can hang around coats. There are several Riverdale coat.
Read more
Close