Newgate clocks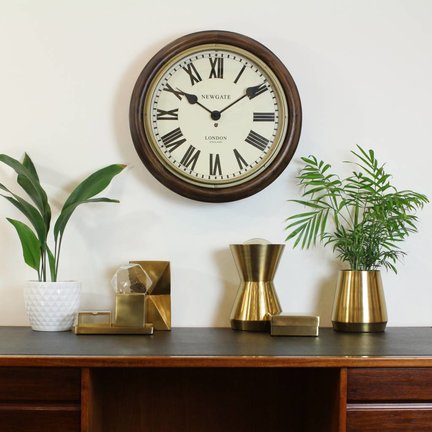 Newgate Clocks, design from England!
We succeeded, we have been able to include the British brand Newgate clocks in our assortment. The wall and standing clocks of this brand are characterized by English contemporary design and quality finish. The clocks are designed by Jim and Chloe Read who also own the company. Jim and Chloe's ambition to create a legacy of great products. This has meant that progress has not slowed down, now that Newgate has earned its place as the leading British clock brand.
Various types of Newgate clocks
Newgate clocks come in different types from classic to modern. Newgate makes clocks for the wall but also standing clocks and alarm clocks. The clocks come in a wide choice of colors and materials. A number of clock series are performed in extra many different retro colors so that there is always one that suits you. The bells are made of metal, wood or plastic and are made by hand.
Quality comes first at Newgate
The Newgate clocks are characterized by the quality and craftsmanship with which the clocks are made. The clocks are equipped with a good timepiece that is specifically selected per clock. There are various clocks that set themselves at the right time and which do not make a sound. There are also some clocks that move the hands in a smooth movement like a station clock.
Newgate clocks ordered quickly and safely at Hetadreswebshop.nl
We offer the largest collection of Newgate clocks in the Netherlands and we always provide excellent solid packaging so that the clock arrives safely. Incidentally, the clocks are within 24 hours if you have them in stock. You will also receive a 12-month warranty on the clock.
Read more
Close
Gratis verzending vanaf

€45

NL & BE
Secure payment
Voor

23:59

besteld morgen in huis*