Riverdale Care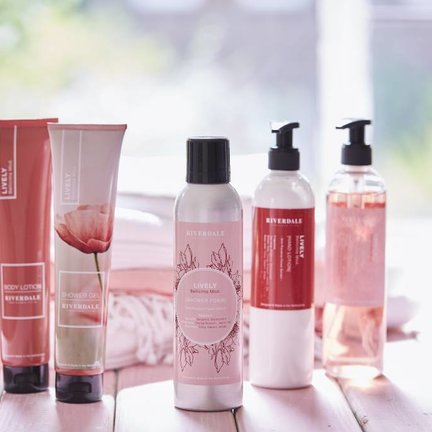 Riverdale care WELLNESS. Collection.
The WELLNESS. collection is a skin care products which consists of the following series of five products; shower gel, nourishing body lotion, moisturizing shower foam, quickly absorbed hand lotion and mild hand soap. These products are all available in three different scents; Pure, Lively and Balance.
Pure Vanilla Coconut Mod.
One of the main ingredients of Pure White tea is Asian. White tea is also known for its purifying effect due to antioxidants. The whole line has a scent of vanilla and coconut, which every day receives a tropical feel.
Lively, Bellicima Mod.
Cheerful and romantic. The fragrant flowers of Provence Flower extract amazed. Jasmine, iris and amber not only give a special smell, but also a sense of joy and optimum life.
Balance, Hammam Mod.
Balance represents a hammam feel at home. By the scent of Japanese mint in combination with among others lavender and musk makes the senses optimally stimulated worden.Balance products contain Argan Oil, a rare oil pressed from the kernels of the argan tree. Argan Oil is working intensively nourishing and soothing to the skin.
Riverdale stylish appearance
The colors and prints on products fits well with your interior design. Combine the care with matching baskets of Riverdale, suited for your bathroom and available in white, blue and gray. The WELLNESS. collection is a perfect gift for the holidays and can be adjusted to your personal taste.
Read more
Close