Riverdale kitchen
Use trendy kitchen accessories for an attractive kitchen.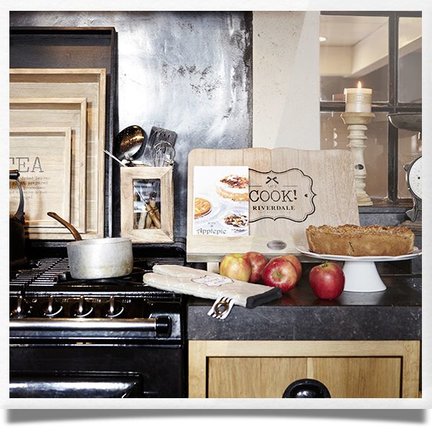 Use trendy kitchen accessories for an attractive kitchen.
Riverdale kitchen accessories at your home.
Cooking is a party. Cooking is meeting. Cooking is tasting, trying, laughing and especially enjoying together. In the middle of the week or during the weekend. With friends and family or with the family. A nice glass of wine, pure enjoyment. It is that central place in the house where the day is discussed and everyone comes to rest for a while.
Kitchen accessories can be practical, but also decorative items for the kitchen. Thus storage containers , coasters and storage buses are functional. Slightly less functional, but certainly not unnecessary are flower pots and other decorative materials. With this you create atmosphere in the kitchen. In short: it does not always have to be functional, but for the eye several things can be added to a kitchen.
Use trendy Riveradale accessories for an attractive kitchen. Culinary enjoyment goes beyond dining at the table. Also at breakfast, coffee, lunch, lounge, high tea, summer drinks and after dinner, let us pamper ourselves with delicious snacks and dishes. Present your snacks on, for example, a wooden platter or a settee surprise your visit!
Riverdale TASTE is hip and trendy, but at the same time has a rural look. This ensures that you can mix the crockery with both classic and modern decor.
The beautiful Riverdale TASTE tableware is characterized by the beautiful, natural ivory white color, the black text and the black heart. This ensures that your table gets a romantic look in no time. The service is available in different sizes, suitable for use at breakfast, at lunch or during dinner. Riverdale glassware makes your covered table complete.
The beautiful plates , mugs and dishes of Riverdale are made of Bone China, a porcelain of very good quality. The Riverdale service can therefore be used in the dishwasher and microwave.

View all our Riverdale items.
Read more
Close