Woodwick scented candles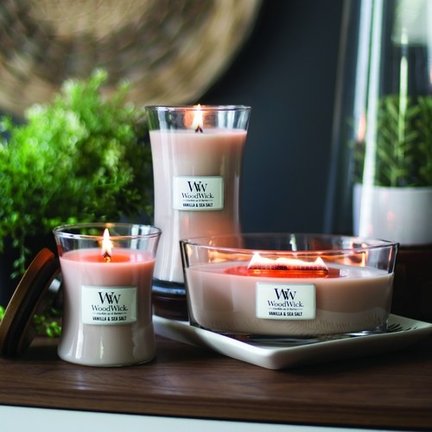 What is WoodWick?
WoodWick stands for unique luxury candles that let you optimally enjoy intense scents.
The unique thing about the WoodWick candles is the wicks made of wood. The unique concept of these wooden wicks creates a pleasant crackling sound that takes you to a nice fire. By feeling the smell and the sound you move yourself in a pleasant atmosphere and have a soothing effect.
The WoodWick scents are very varied, so WoodWick candles bring you fresh motivating scents to soothing scents. The scents provide a cozy atmosphere that makes your worries disappear and you feel better. The dark scents reminiscent of memories from the past ensure that you can relax from a day of work.
Woodwick candles come in various sizes from small to large and there is a special Woodwick Hearth ellipse model that has an extra wide flame.
Not only does the perfect fragrance release make WoodWick unique, the special packaging also makes your WoodWick experience special. The WoodWick candles are packed in processed glass and have a wooden lid which gives a nice addition to your interior. Also try the popular scent, Woodwick Fireside . This fragrance has a unique smell due to the use of Vetiver, which is a grass species.
Be surprised by a soft crackling fire and the beautiful scent that is spread in your interior.
Instructions for use :
Make sure that you leave the candle on for at least 1 hour, but 3 to 4 hours is recommended for the best scent

Place the burning candle on the lid and avoid damaging your surface.

Very important with the WoodWick candles is that you do not leave the wick too long. It is recommended to trim it to 0.5 mm above the candle for optimal branding (this does not apply to the HearthWick Ellipse model).

How do you trim the WoodWick? You first let the candle completely solidify to which you then with your finger carefully pieces of the wooden fuse breaks down to the desired length.

How do you prevent your candle from tunneling? Tunneling happens when the candle is not properly burned, causing the wick to burn down so that you get a kind of edge around the candle. To prevent this, it is important that you leave the candle on for at least 1 hour so that the candle becomes liquid and becomes a whole again.

Do not put the lid back on the candle until it has completely cooled down and solidified.
If you follow these instructions, you can optimally enjoy the WoodWick candles.
Read more
Close
-18% Sale

27,95 22,95

Fast shipment
Secure payment
Voor

23:59

besteld morgen in huis*