Mini Woodwick candles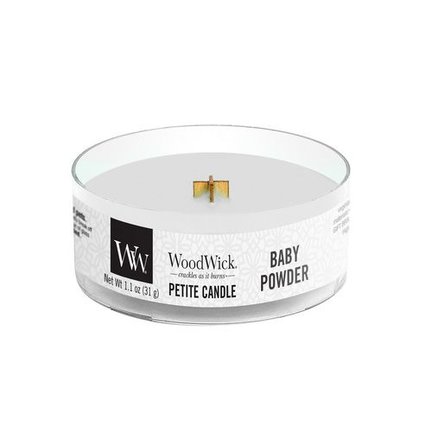 With the mini WoodWick candles you can now really enjoy the WoodWick scents everywhere.
The scented candle has ~ 8 hours and is packed in plastic packaging and is made from soy. The candle has a wooden fuse that crackles like a burning fire as soon as you light the candle. The WoodWick candles are available in different Woodwick scents , so that a WoodWick candle fits in every interior.
Try scents
Different scents are not only tasty, but different scents can also influence how the atmosphere is at home. The deep scent pallet of the Woodwick Evening Onyx candles will let you relax with the scent of Jasmine.
It is advisable not to leave the wick of the WoodWick candles too long. And to trim to 0.5 mm above the candle for better branding (the Woodwick HearthWick Ellipse model does not have to be trimmed). It is best to trim the wick when the candle has cooled down. Then you can carefully pick up small pieces of the wick with your fingers. If you follow these steps, you will enjoy your WoodWick candle longer.
Read more
Close
-18% Sale

27,95 22,95

Fast shipment
Secure payment
Voor

23:59

besteld morgen in huis*